BCLP Named Law Firm of the Year for Excellence in Digital Infrastructure Services at The Tech Capital Awards 2022
June 13, 2022
Bryan Cave Leighton Paisner (BCLP) was named Law Firm of the Year during the inaugural edition of The Tech Capital Awards 2022, which took place recently in London.
The Tech Capital Awards recognizes individuals, teams and companies operating in the global digital infrastructure finance, investment, legal, development and advisory spheres. Law Firm of the Year is awarded to a law firm or legal team which in the past 12 months excelled in its services toward facilitating the advancement of digital infrastructure deals.
Partner and Data Center & Digital Infrastructure Team Co-Leader Jim Grice said, "BCLP's Data Center & Digital Infrastructure Team is truly unique among law firms and we've structured our service offering to provide a comprehensive perspective on all the disciplines that are relevant to both the digital infrastructure investor and the developer, owner and operator. We have exponentially grown our Data Center Practice in the last few years, bringing together lawyers across the globe and across disciplines who are in tune with the totality of the digital infrastructure ecosystem. I am so proud of our team and this recognition simply validates the excellent and high profile work we are doing every day for our clients. Thank you to The Tech Capital and members of the selection committee for this honor."
Present to accept the award on behalf of BCLP were Partner and Data Center & Digital Infrastructure Team Co-Leader Barry Gross and Senior Associate Rachel Sheridan. Commenting on the result, Barry said, "We are delighted to win this award. It demonstrates the strides we are making in this fast evolving sector and reflects the hard work and commitment to our clients by our global team who are not only advising on live projects, but who are also engaged with the market and working to ensure we are at the cutting edge. We thank the judges for this recognition and appreciate the support of The Tech Capital Awards team."
Click here to view the full list of winners.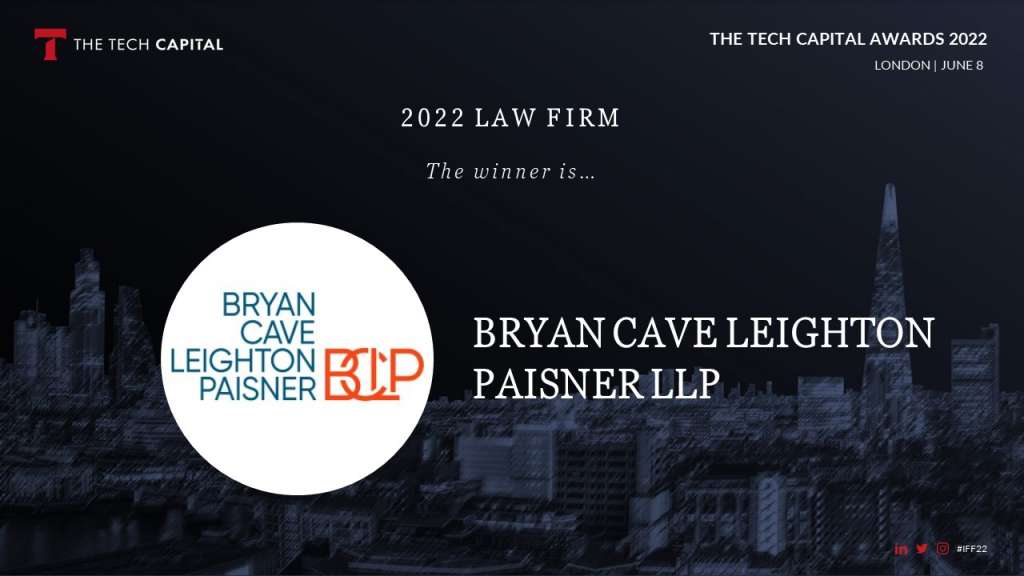 This document provides a general summary and is for information/educational purposes only. It is not intended to be comprehensive, nor does it constitute legal advice. Specific legal advice should always be sought before taking or refraining from taking any action.