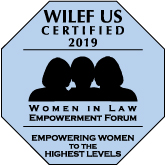 The Women in Law Empowerment Forum (WILEF) has recognized Bryan Cave Leighton Paisner as a Gold Standard firm for 2019. BCLP is one of just 45 law firms in the US to receive Gold Standard Certification this year.
WILEF grants Gold Standard status to major firms that meet objective criteria concerning the number of women among equity partners, in firm leadership positions, and in the ranks of their most highly compensated partners.
"Although the number of US firms increased by three from this time last year, given baby boomers retiring and law firms making fewer equity partners, I think it is becoming more difficult to attain the Gold Standard," WILEF's Global Chair Elizabeth "Betiayn" Tursi noted in a release.
BCLP is committed to promoting the success of women within the firm through a variety of initiatives and programming. This includes career and leadership development opportunities through the affinity group for our US women lawyers, BCLP Women, as well as mentoring and coaching activities.
"BCLP is dedicated to providing a platform for the career development and success of our women lawyers," said Chief Diversity Officer Lisa Martin. "We are proud to receive this recognition of our deep commitment to diversity."