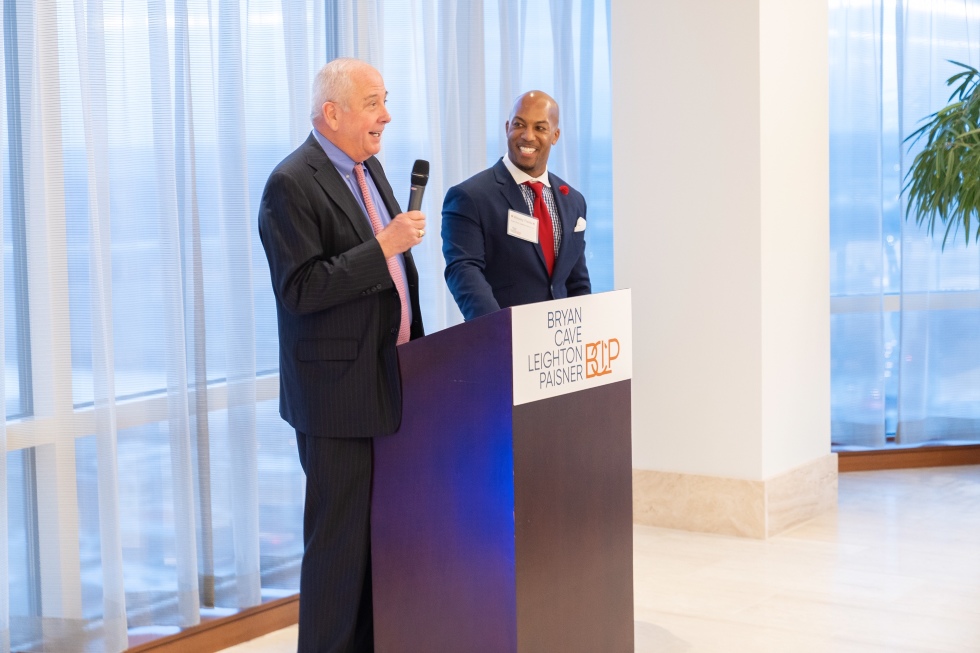 BCLP's Kansas City office hosted a client reception recently to mark the handoff of office managing partner duties. Perry Brandt has served in this role for the past four years, and Wesley Fields took over in January.
Clients, friends and family celebrated this event on Feb. 28. Special guests included U.S. Rep. Emanuel Cleaver (D-Mo.), Kansas City Mayor Sly James, and Jackson County Executive and Royals Hall of Famer Frank White. Nine judges also attended, with several giving personal statements about Brandt and Fields. Both men have had deep involvement with clients at the regional level and beyond, as well as key civic positions.
Since 1977, Brandt has acted as lead trial counsel in all types of complex business and commercial litigation in state and federal courts across the nation, as well as before various governmental agencies and arbitration panels. His experience spans a number of industries and types of proceedings, and he has achieved many summary judgments and other favorable resolutions prior to trial. Brandt is extremely involved in a number of bar, civic, educational and charitable organizations, including the Greater Kansas City Chamber of Commerce, The Missouri Bar Board of Governors and the Kansas City Metropolitan Bar Association.
Fields has an active practice in the areas of public finance, corporate transactions and general business matters. Fields has served as lead counsel to the Tax Increment Financing Commission of Kansas City, Mo., for more than 15 years and has participated in structuring and documenting over 100 development and public infrastructure projects in the Kansas City area valued at more than $5 billion. Fields is also deeply involved in the community, particularly with Harvesters Community Food Network, the Southern Christian Leadership Conference and Research Medical Hospital.