1,4-Dioxane State Groundwater Regulations
August 31, 2022
Summary
There is no federal drinking water standard for 1,4-dioxane, but as illustrated by a recent press release for the Industrial Excess Landfill Superfund Site in Ohio, the U.S. Environmental Protection Agency (EPA) and state environmental agencies have begun directing potentially responsible parties to conduct investigations to address the presence of 1,4-dioxane in drinking water and groundwater. Some of these investigations are conducted at previously closed sites at which the chemical had not been initially identified as a contaminant of concern. To protect the environment and avoid liability, any business in industries that use or produce this chemical must determine whether it needs to modify its operations to reduce or eliminate 1,4-dioxane.
This client alert surveys the remediation, guidance, and notification requirements for 1,4-dioxane in groundwater across the United States.
I. State Regulations and Guidance
The regulatory landscape for groundwater consists of an array of widely-varying state-promulgated standards and regulations. For example, the lowest allowable concentration is 0.3 µg/L (Massachusetts and Vermont), and the highest value is 200 µg/L (Iowa).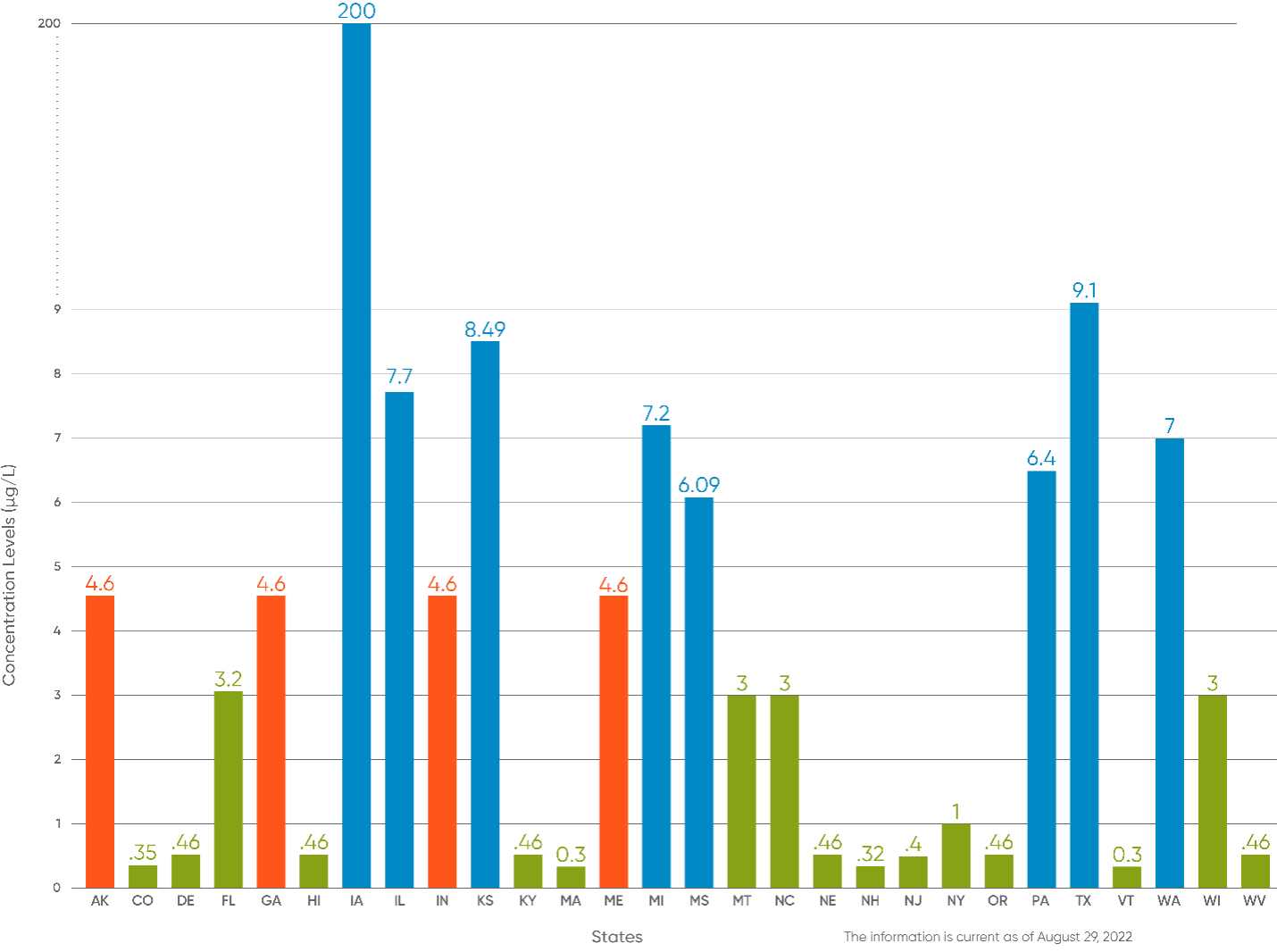 The map and chart are current as of August 29, 2022.
Some states, such as California, have established an advisory Groundwater Information Sheet for 1,4-dioxane. Other states, such as Connecticut, provided an advisory Technical Support Document for 1,4-dioxane (See Table 5). Additionally, some states, such as Missouri, have listed 1,4-dioxane in the Risk-Based Corrective Action Program (MRBCA).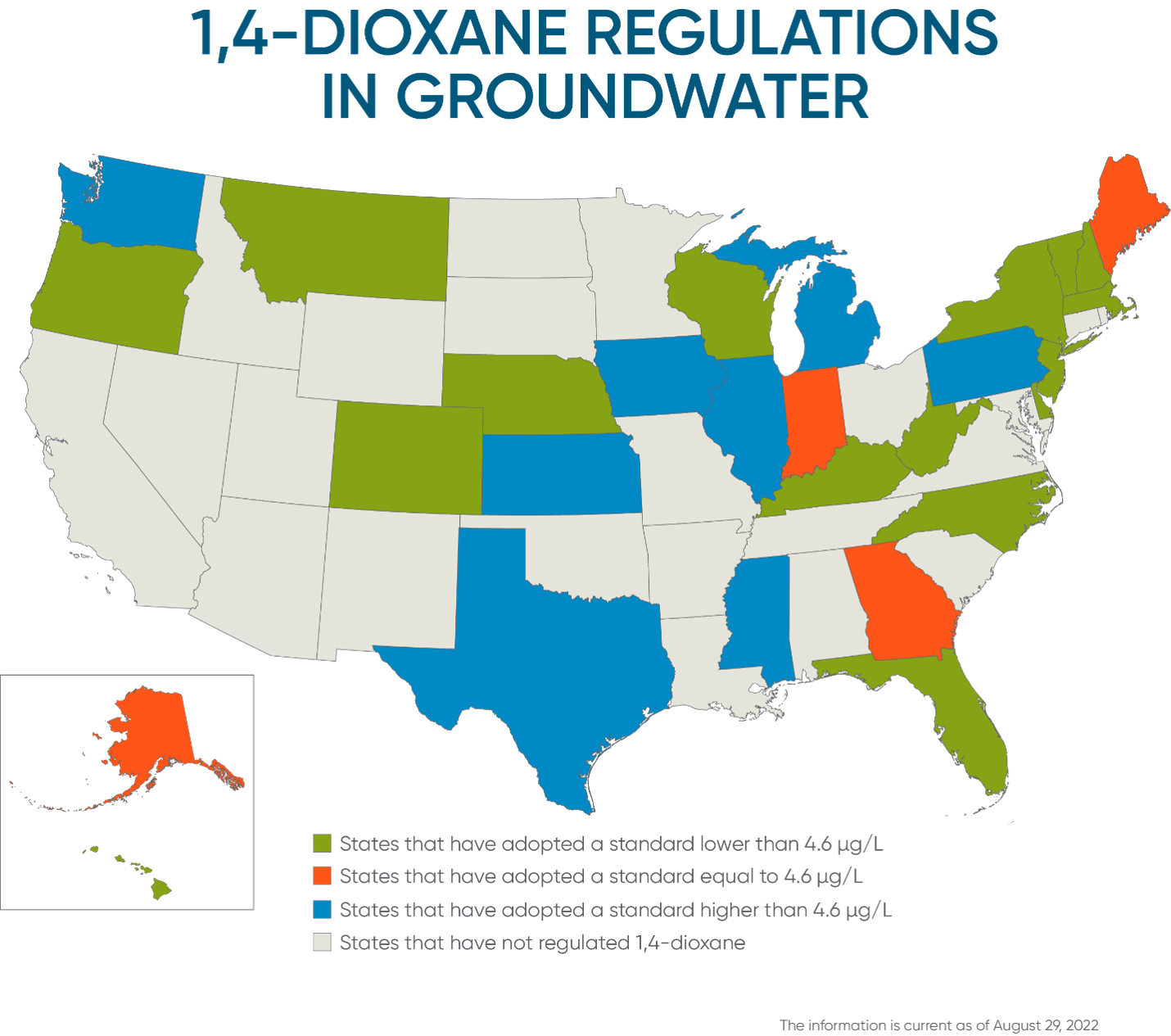 States with No 1,4-dioxane Groundwater Regulations or Enforceable Guidance (as of the date of publication):
Alabama, Arizona, Arkansas, California, Connecticut, Idaho, Louisiana, Maryland, Minnesota, Missouri, New Mexico, North Dakota, Ohio, Oklahoma, Rhode Island, South Carolina, South Dakota, Tennessee, Utah, Virginia, and Wyoming
Key:
| | |
| --- | --- |
| Notification | A corporate representative may have to inform an appropriate state official that a groundwater source contributing to a public drinking water supply is above the limit. |
| Advisory | The state establishes recommended concentration limits for 1,4-dioxane, but no notification or other action is required if concentrations exceed the recommended limits. |
| Clean Up | Investigation and remediation is usually required when concentration levels exceed the requirement. Clean up standards are usually expressed by values that identify specific clean up criteria. |
| MCL | MCLs establish the maximum amount of 1,4-dioxane that can be present in water concentrations. Treatment facilities that supply drinking water (by using groundwater supplies) must ensure that these limits are met by treating and filtering the water, and also by limiting the discharge of 1,4-dioxane through permits. |
II. Conclusion
The regulation of 1,4-dioxane in groundwater will continue over the next several years as additional research is conducted on potential health impacts, and as regulators at both the federal and state levels develop a deeper understanding of the prevalence of 1,4-dioxane in groundwater.
If you have any questions regarding 1,4-dioxane, please contact Phil Karmel (212-541-2311), John Kindschuh (314-259-2313), or Erin Brooks (314-259-2393).
This document provides a general summary and is for information/educational purposes only. It is not intended to be comprehensive, nor does it constitute legal advice. Specific legal advice should always be sought before taking or refraining from taking any action.